I love to look at Anthropologie's website. It's full of the kind of quirky, fun things that make me smile.  What I love even more is using that site as a starting point for making quirky fun things I can actually afford.
This week Ruby and I hacked Anthropologie and made some push pins.
What You'll Need:
For the pom pom push pins:
Premade pom poms and flat head push pins.
(You could make your own pom poms as well, but we just used store bought.)
For the dinosaur push pins : 
Plastic mini dinos, spray paint, and flat head push pins.
We used E6000 glue for both.
Pom Pom Push Pins
Here's the original on Anthropologie: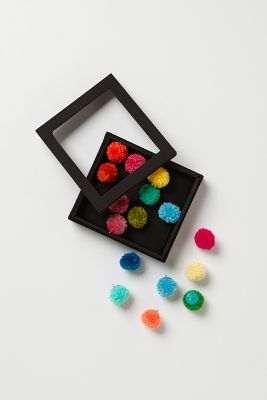 They aren't for sale anymore, but they were $15 for a dozen, plus shipping. I bought a bag of pom poms and 300 tacks at the dollar store for $2. The tube of glue cost about $5, but we used a tiny, tiny bit for this project. Ruby and I made a dozen for about a dollar total. No shipping!
These were so easy, it hardly seems like we even need a tutorial.
Just take a pom pom and push back the fluff until you get to the center. Add a dot of good strong glue (you want something strong because you'll be pulling on the pom pom to take the pin out of the board) and then put the flat part of the pin into the glue. Let it dry and voila, silly easy and super cute.
Dinosaur Push Pins
I was inspired by these push pins on Anthropologie: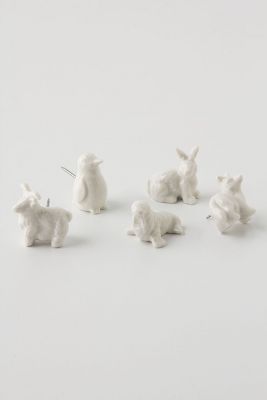 They're also not for sale anymore, but cost $12 for five, plus shipping. They did go on clearance for $2.95, so there's that. I bought a bag full of little plastic dinosaurs at a thrift store for $1.99, used some red spray paint I already had, and more of the push pins and glue from the pom pom pins. I'd say that a dozen of these cost me no more than the cost of five of them from Anthroplogie, again without shipping.
I started out by cleaning the dinosaurs really well and then spray painting them red.
They turned out cute, right? I love how they're still fierce, even after the paint.
And then it was just a matter of putting a dot of the E6000 glue on the side of each one and pushing the flat head of the pins into the glue.
We have two corkboards in our house. One in my office (top) and the other in the kitchen (bottom, with the world's sweetest chalkboard eraser octopus.) Both are now 100 percent cuter than they were before!
* * *
This post is shared on these awesome blogs: